Go from tree to balcony
Wherever you decide to hang our Modern Hanging Birdfeeder, you'll love the feed and comfort it provides to birds.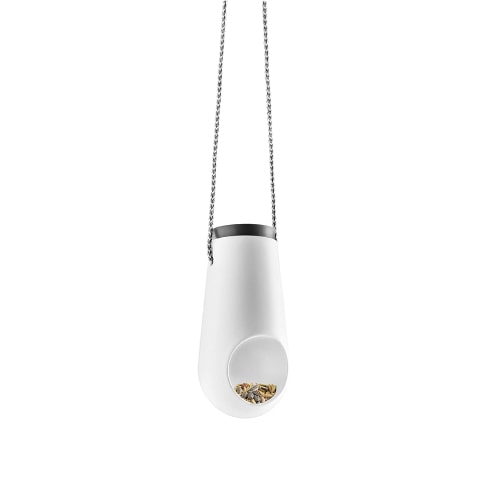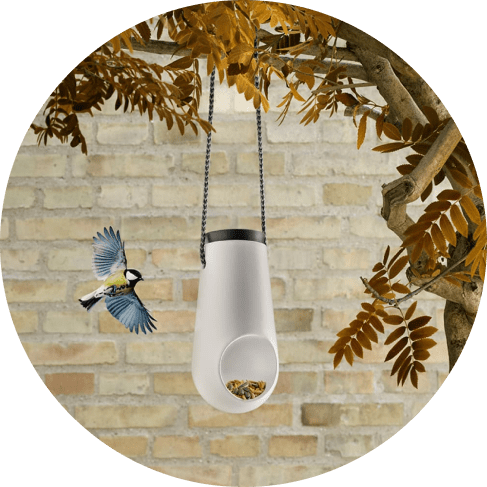 It's a place of shelter
Hey, birds need protection from the elements too. So when it rains or snows or is unbearably cold, this birdfeeder doubles as a place of shelter.
It's a place to eat
Like a cafe to pop in for a quick bite at, our Modern Hanging Birdfeeder allows birds to fly into the entrance and get a quick fill before flying off elsewhere.
Modern, sleek design
Create a bird's new favorite chill-out spot
Refill with ease
Running low on bird feed? The lid atop our feeder is easy to open for convenient refilling of feed.
Be confident in Danish craftsmanship
Our Modern Hanging Birdfeeder is built from ceramic, rubber, and nylon for a functional item that holds up in the rain or heat for long-lasting endurance.
Clean up with ease
Feeder empty? Probably in need of a clean? Simply unhook the housing and wipe down with a cloth or rinse with water for quick cleaning.
Rope included
A sturdy nylon rope comes with each birdfeeder so you can hang your new purchase up anywhere.
Small and cozy does it
The feeder measures 7.7" in height and 2" in width, while measuring just 1.25 pounds, for a hand-sized addition that isn't bulky or heavy (making installation easy)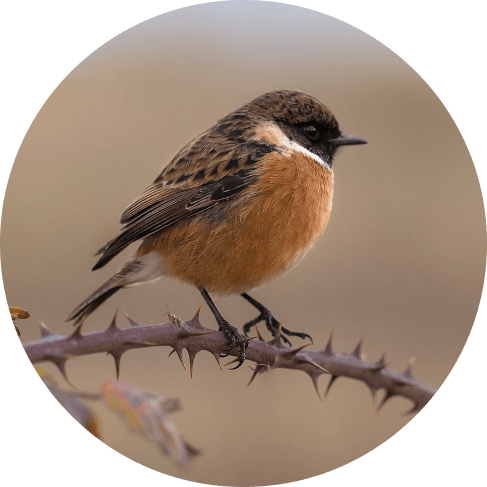 Style you won't find elsewhere
The unique craftsmanship and attention to detail provided by Tools® ensures you won't find another dynamic, capsule-shaped birdfeeder like ours. Our Modern Hanging Birdfeeder is made with the greatest attention to detail and quality for a decorative piece that will remain timeless. The Tools® name is a mark of dedicated product research, minimalist Euro-inspired design, and modern color palettes to outfit any interior (or exterior) effortlessly.