Ourdoor HD Network Home Security Camera

Applied to multiple occasions
100% wire-free mobile HD security camera, operates on 4G-LTE and 3G networks. An ideal video monitoring solution with no cords, no wiring hassles, when in areas with limited or no WiFi access, no electrical power source!
Portable and weatherproof! Install or take it just about anywhere, indoors and outdoors. In your vacation home, construction site, campsite, in the wild, etc.
Runs on LTE, no broadband required
Reolink Go operates on 4G-LTE and 3G networks. Best option for monitoring warehouse, farm, and forest. Don't need to worry about there is no WiFi around in the monitored environment.
[The solar panel is not included in]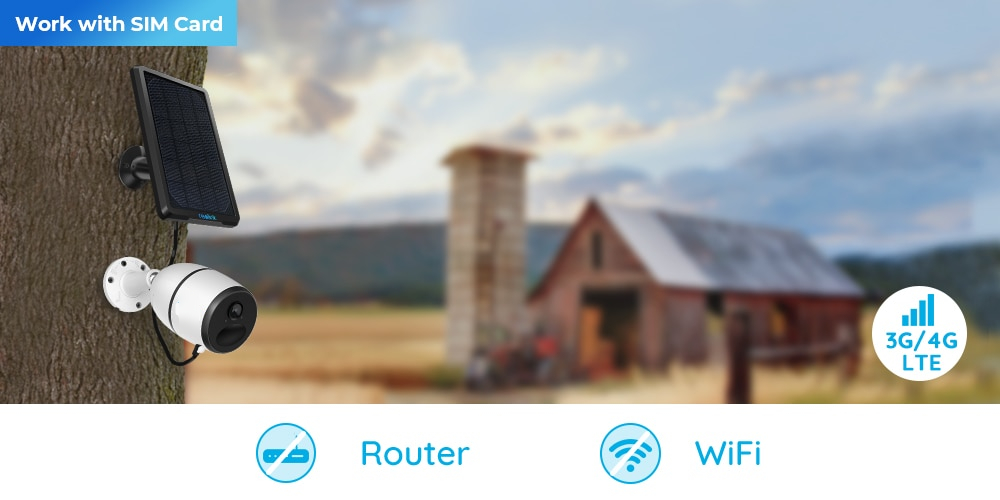 Can work with Solar Panel
[The solar panel is not included in]
Our Full HD Network Home Security Camera comes with a rechargeable battery, which is 7800mAH in capacity. Full HD Network Home Security Camera Go lasts for around 2 months in standby-mode (or about 500 min worth of active access for live feed/recordings, equivalent). Connect the camera to Reolink Solar Panel to get non-stop power and you don't need to charge it manually.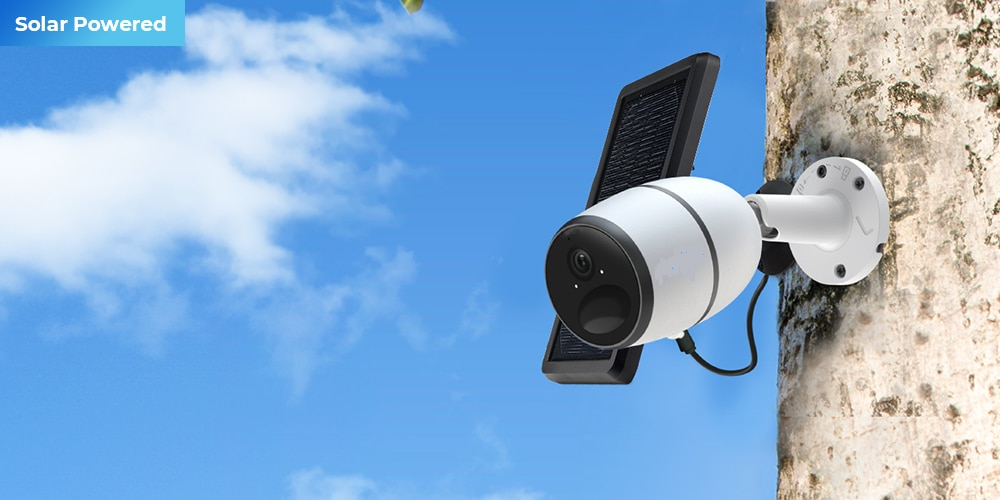 Enjoy better picture quality
See everything in details with true 1080p Full HD. Get clearer and sharper images/videos than 720p cameras. You will enjoy bettery picture quality with this battery camera
Starlight sensor to extend the time of color pictures
With the advanced starlight CMOS Sensor, Our Full HD Network Home Security Camera gives you high-quality videos in very low light conditions from full daylight to starlight (up to 33 feet night vision) , without the extra lighting infrastructure. And you can see valuable visual details to identify people, vehicles, and other objects around the clock.
PIR Motion Sensor — Instant & Accurate Alerts
110° wide-angle and highly sensitive PIR motion sensor offers almost no false alarms. No human movement can slip through without your notice.
Don't miss any important notification
Receive instant app push notifications, email alerts and sound alarms when motion events are detected. Reolink Argus 2 battery-operated security camera will be woken up at once when you access the camera for live streaming or when motion events are detected. You will get rid of worrying about the rain or snow false alarm all day long.
Save motions in SD card or Cloud
1. The SD card will record when motion detection is triggered. The camera will wake up within 0.8s after motion detection is triggerd. When the SD card is full, it will automaticly cover the old video.
2. Reolink Cloud only works with Reolink Go, Argus 2, Argus Pro, Argus Eco, Argus PT, E1, E1 Pro and E1 zoom in the United States, Canada, New Zealand, Australia, Qatar, UAE, Malaysia, Thailand, Vietnam, Israel, South Korea, Indonesia. More places and products will be supported in the near future.
Get Remote Access Anywhere Anytime
Control has never been so easy with free Reolink App and Client! View your family and home anywhere and anytime via your iOS and Android smartphones, or through a Windows or Mac computer! Even when you are in your office or travelling, you can check what's happening to your home/business on the go!
Two-Way Audio, Hear & Talk Back via Your Smartphones
Easily set up Reolink Go, to monitor your second home remotely, protect your RV, keep an eye on your job site, and enjoy wildlife watching. Or taken it to your farm, on the boat, around food trailers, deep in the woods, or any place the WiFi network might not reach.
Works well outdoor
IP65 weatherproof. Our Full HD Network Home Security Camera braves it all, rain or shine, intense cold or heat. The weather resistant body and housing enable it to work perfectly even in bad weather, like in heavy rains.
More details of Reolink Go