2021 New RGB LED Rainfall Shower Head
With Automatic RGB Color-Changing Temperature Sensor
This 8-in square rainfall shower head with LED lights illuminates your shower with gorgeous colorful LEDs. It is completely powered by water flow, no need for additional batteries or power sources. This LED shower head can make your shower become a multicolored dream world, and make monotonous bathing fun and romantic.
8′ Square RGB LED Showerhead for Bathroom Features:
LED Shower Head: Our LED rainfall showerhead illuminates your shower with gorgeous colorful LEDs, which turns your shower room into a colorful dream world, and makes monotonous showering fun and romantic.
Large Rainfall Shower Head: Large shower head of 8 x 8 inch possesses high pressure and strong flow. The design is stylish and beautiful. Let you and your family enjoy amazing shower experiences every day.
2 LED Light Modes Optional: There are 2 light modes modes of Led shower heads for you to choose, the first with colorful light flashing like a sparkling waterfall and the second with RGB lights changing according to different water temperatures.
Self-powered by Water Pressure: The LED rainfall showerhead does not require additional batteries or power sources to supply power. The LED light is completely powered by water flow. Energy-saving and maintenance free.
High-quality materials: The shower shell is carefully made of high-quality ABS with a metal coating, which has superior corrosion resistance, wear-resistance and heat resistance. Leak-proof, for long time use.
Exquisite Workmanship: Our LED shower has a beautiful and fashionable appearance, and the holes outlet on the shower are smooth and free of burrs.
After-Sales Service Guarantee: In case of any problem, just contact our store for after-sales service. It is our honor to serve you.
Specifications:
Item name: LED Rainfall Shower Head
Main material: ABS
Type (Optional): Multiple Colors/ RGB Color (Temperature Sensor)
Light display mode: Multiple Color: LED color flash and change
RGB Color: Green light (≤32℃), Blue light (33℃-41℃), Red light (42℃-50℃), Red light flashes (>50℃)
Shower Head Diameter: 20 x 20cm/8 x 8 inch
Packing List:
1 * LED Rainfall Shower Head
1 * Installation Parts Kit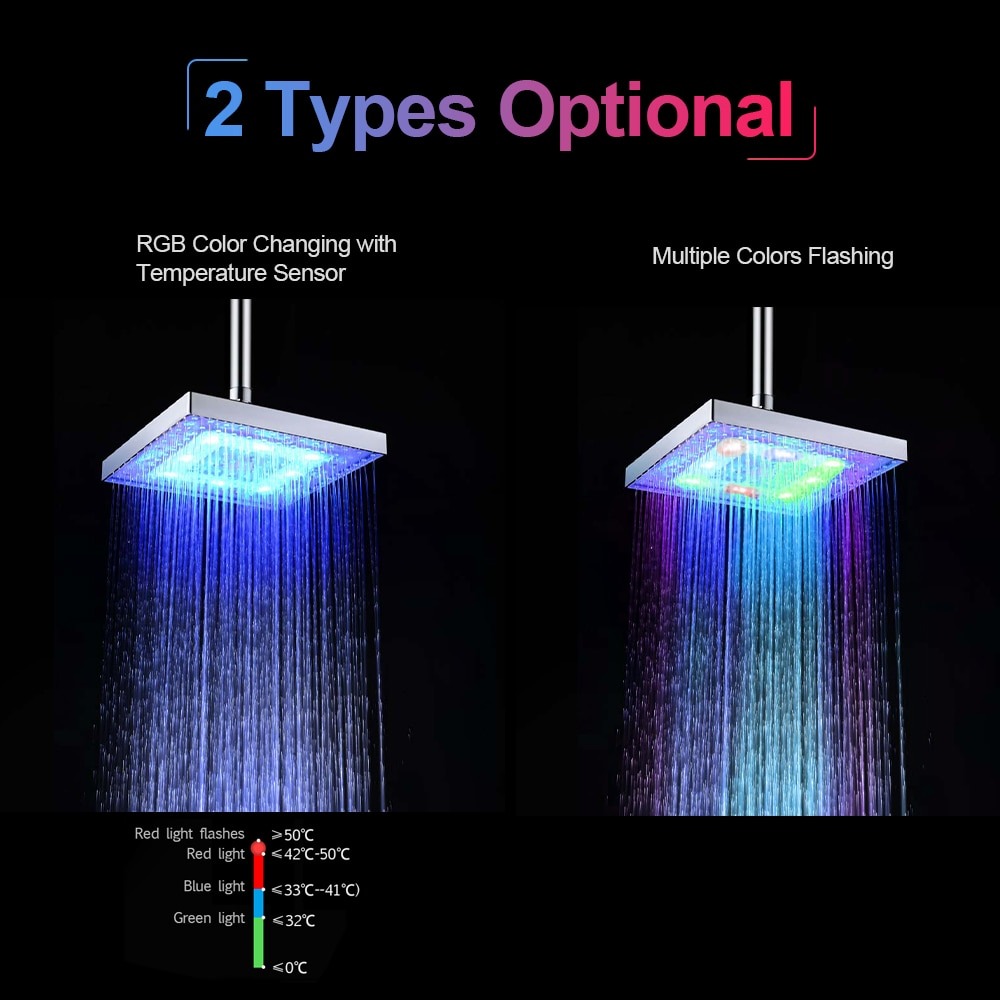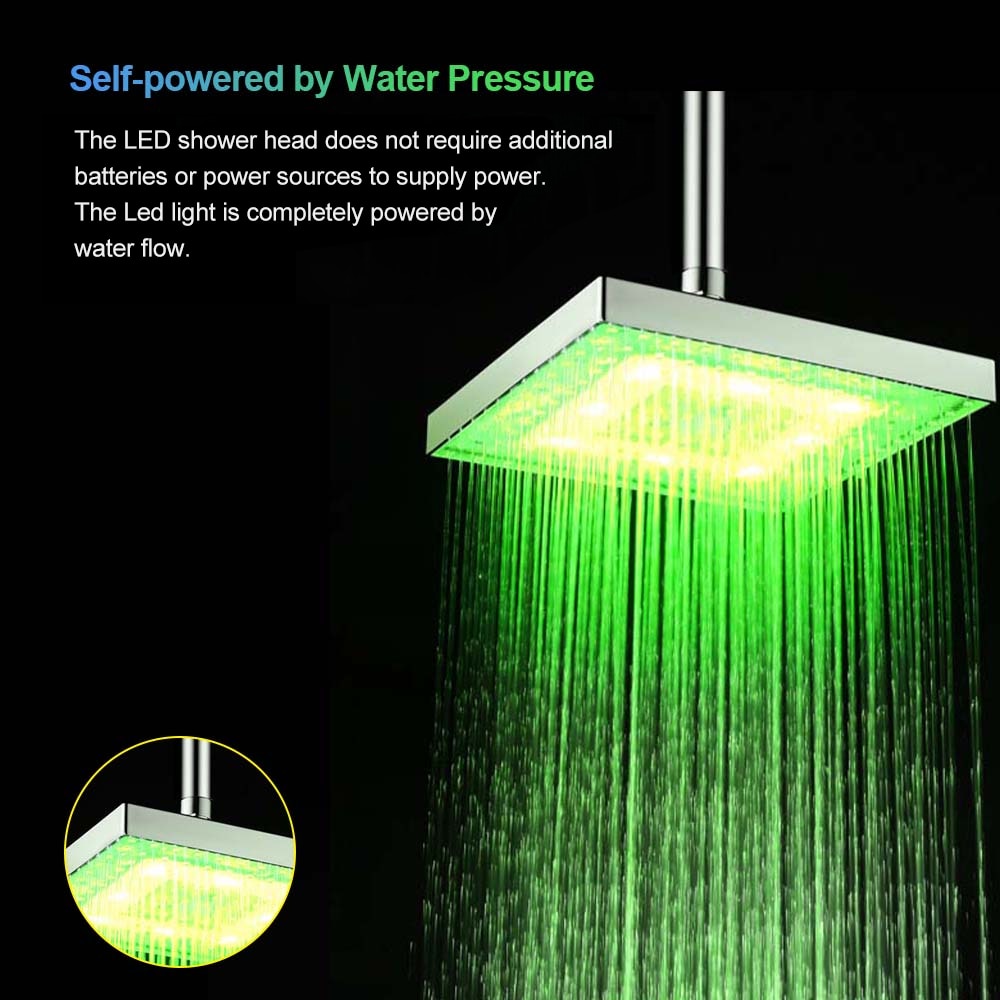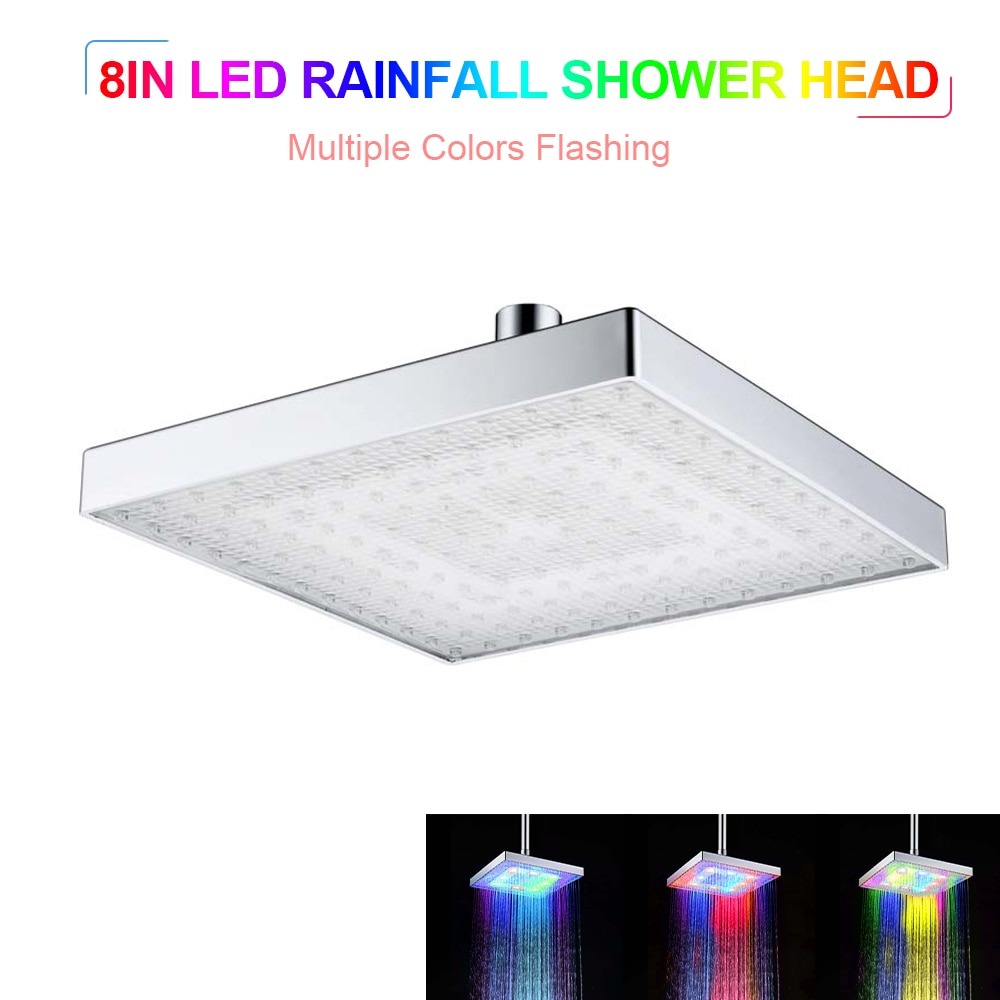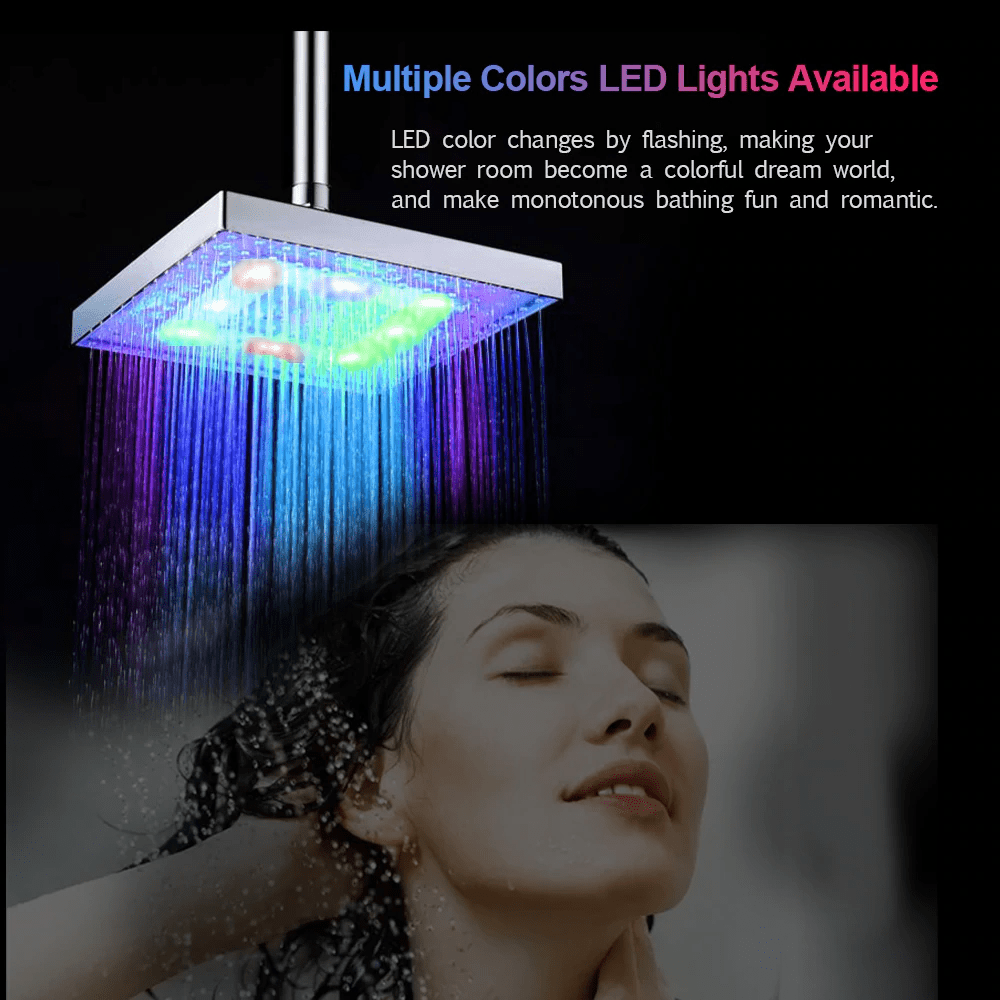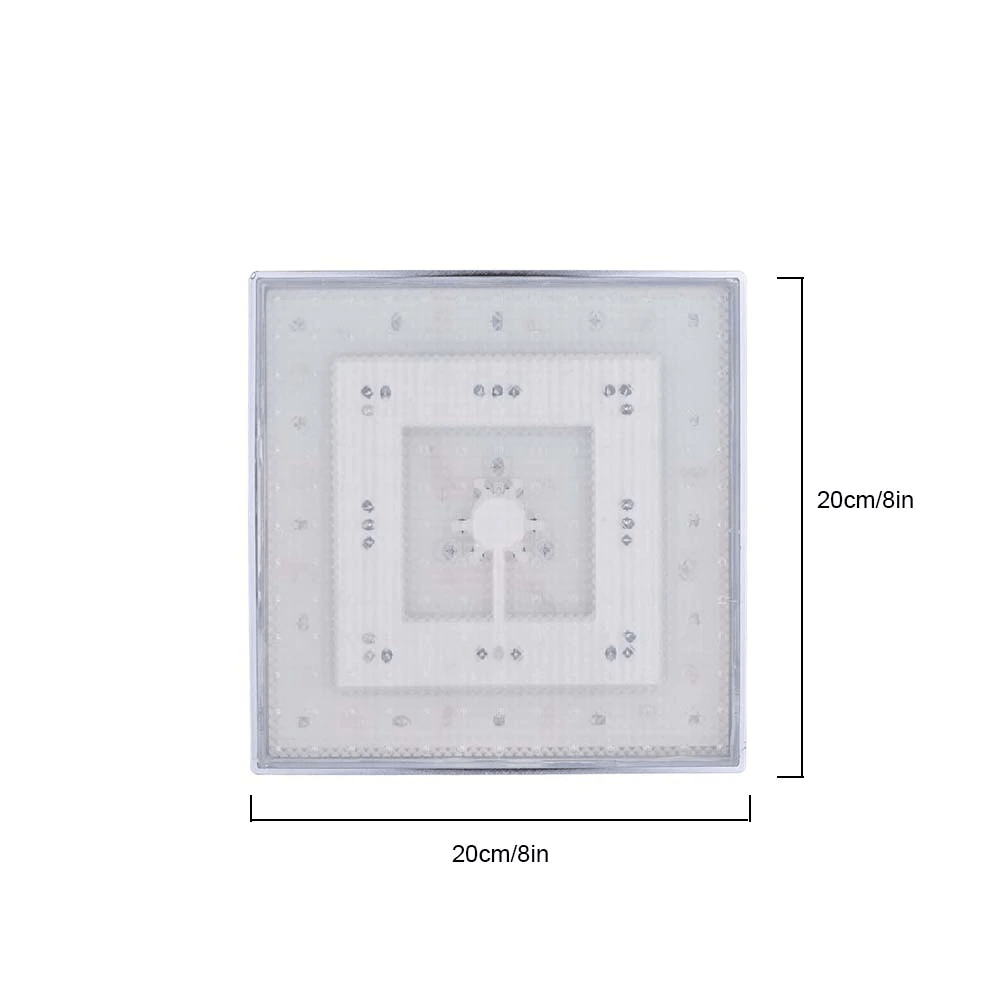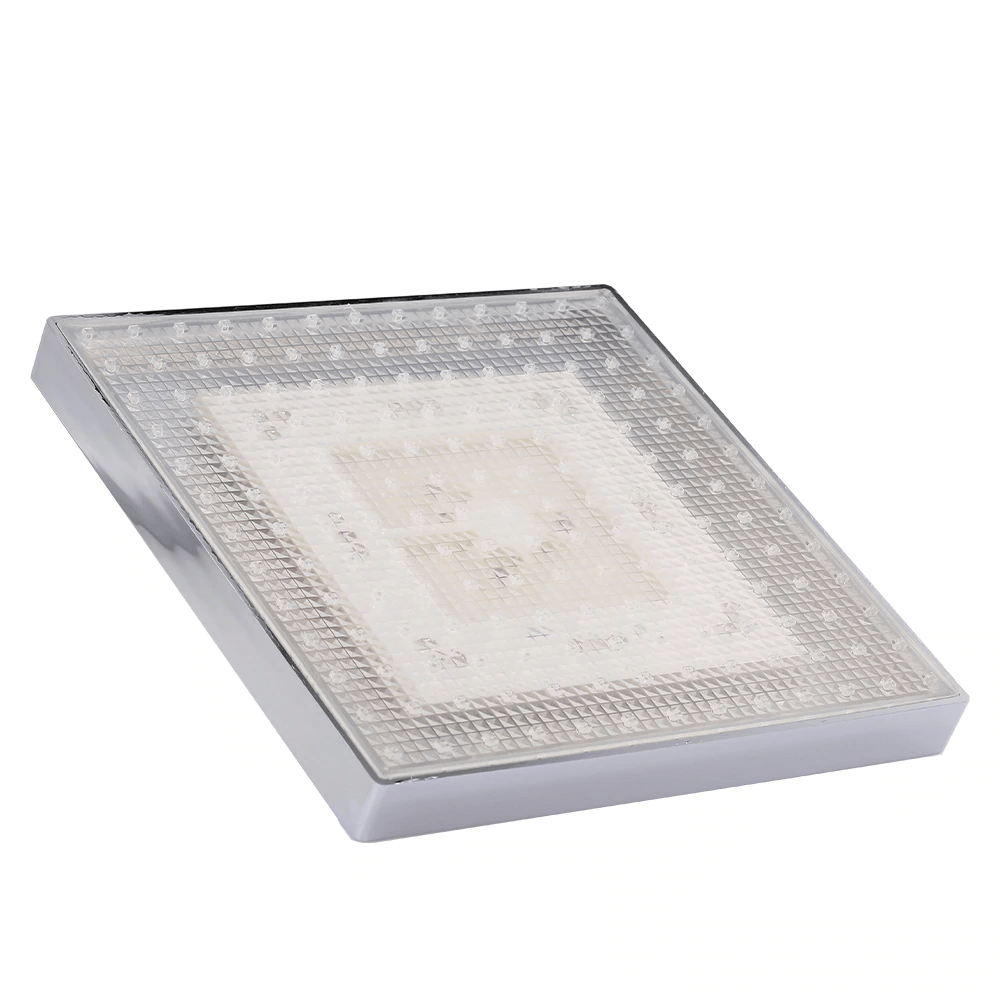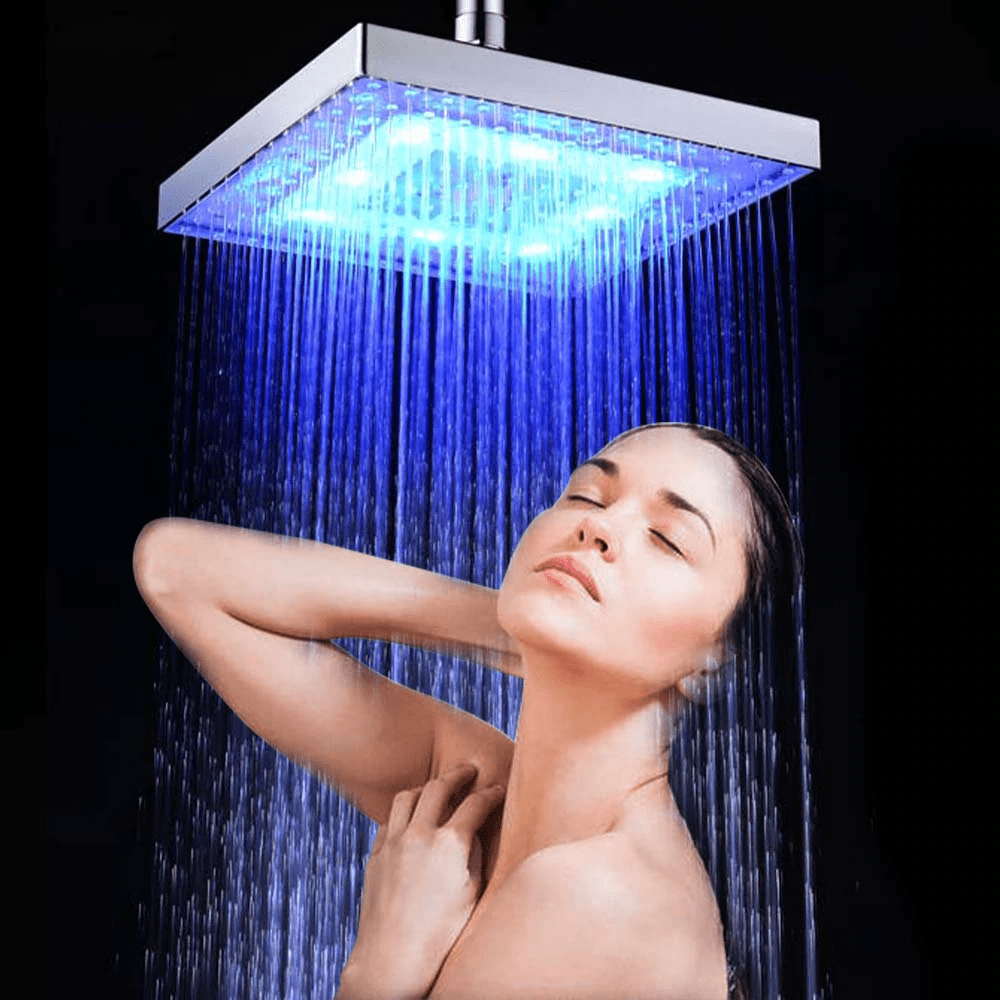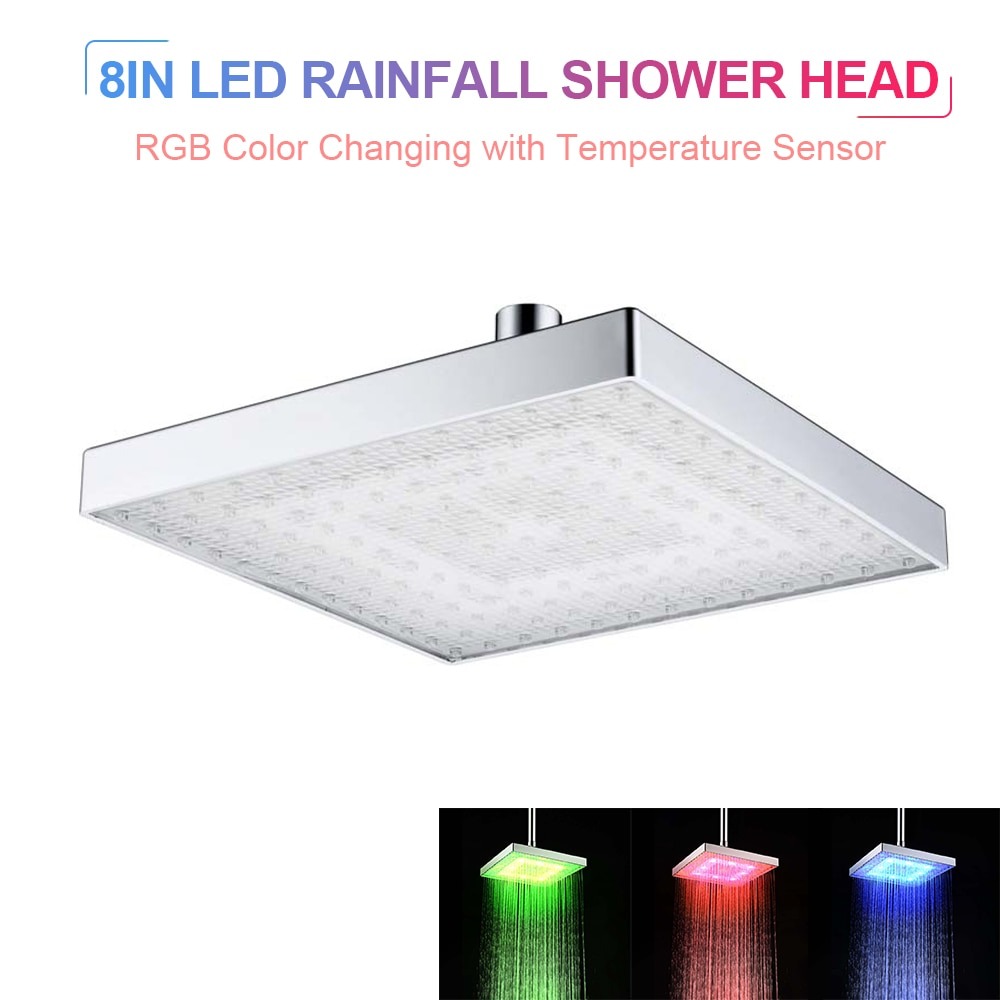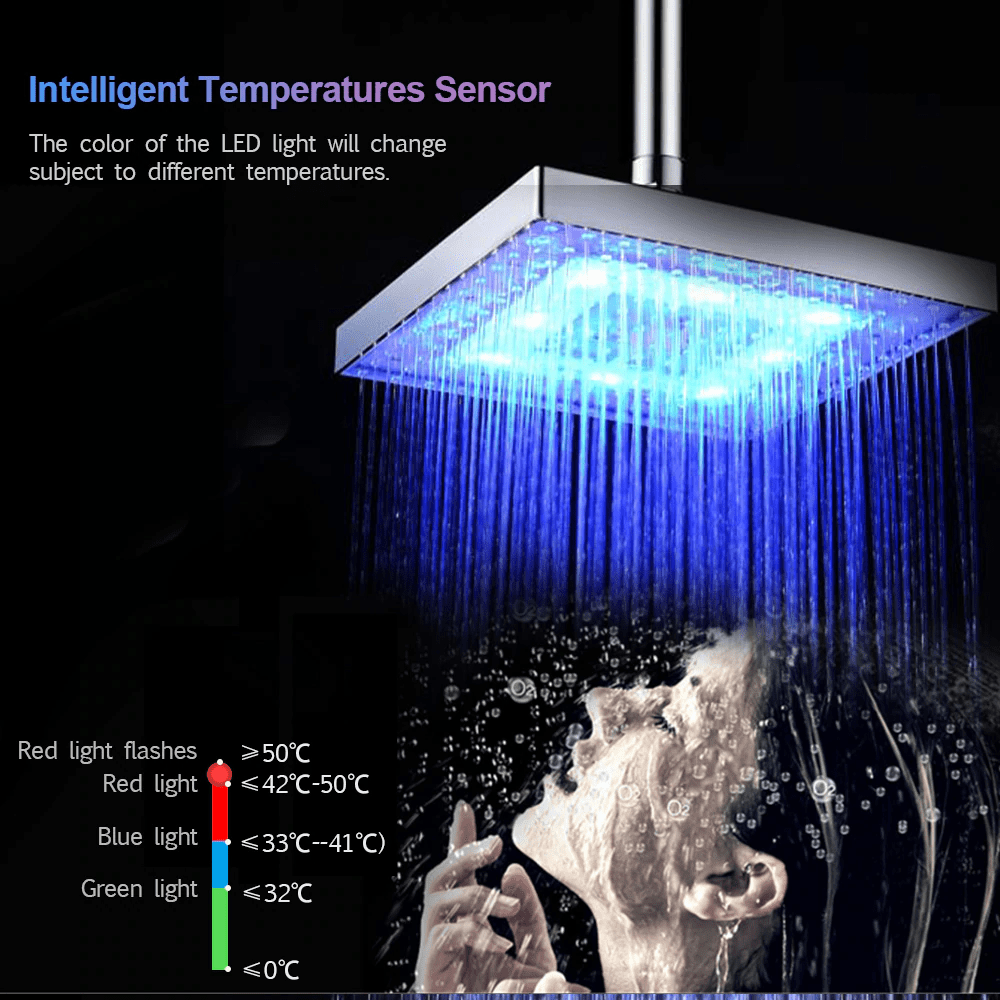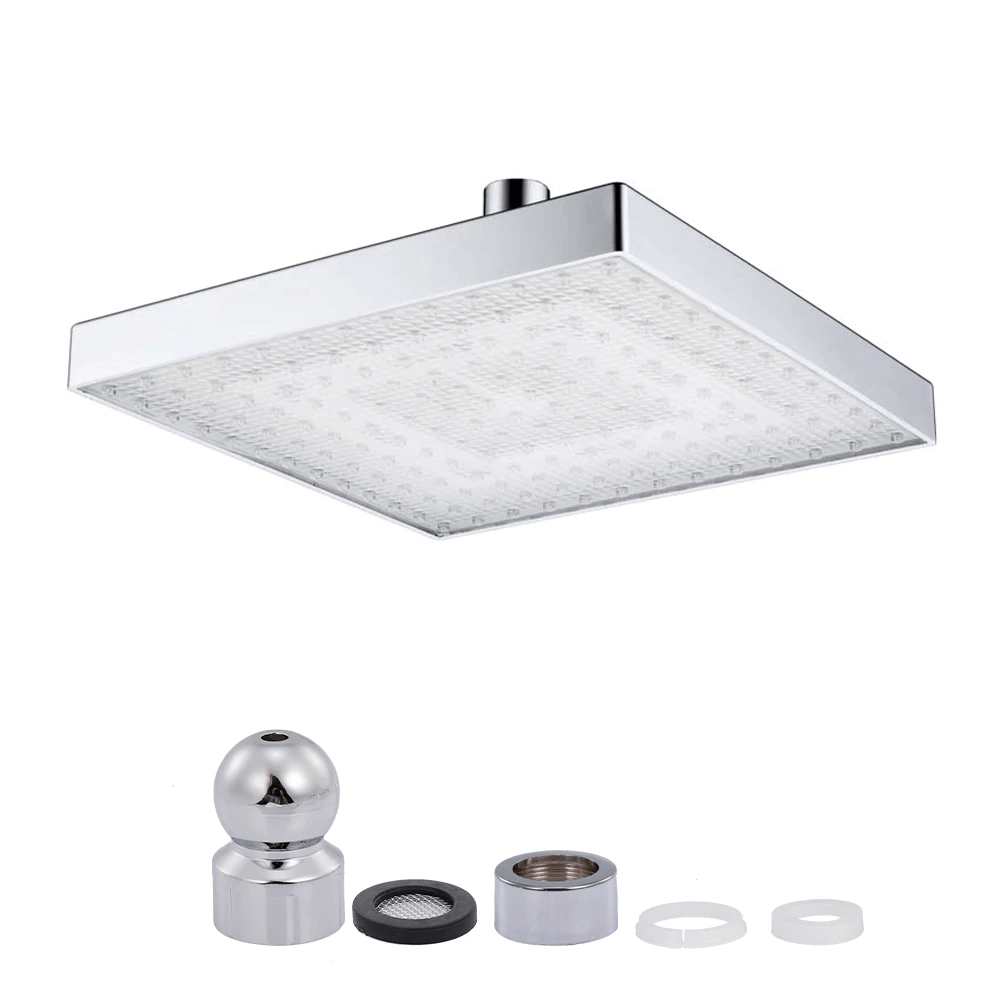 Frequently Asked Questions about the RGB LED Rainfall Shower Head
Are LED shower heads safe?
Yes, this LED shower head is safe. The integrated LED lights don't consume much energy and are friendly to the environment because they are completely powered by water flow. Using them regularly doesn't implicate any health risk.
Does this LED shower head need electricity?
No, this LED shower head relies on water flow to power the LED lights. The water flow drives a turbine or generator that in turn produces electricity to supply to the LED lights on the shower head.
Do I need a plumber to install this LED shower head?
No, Replacing your shower head is fairly quick and easy. Just follow the following steps:
Step 1: Remove your existing shower head with a wrench. Set the wrench in place and turn the nut to the left to loosen it. Have a hand ready to catch the shower head when it falls so that the metal doesn't crack your shower floor.
Step 2: Clean the threads of the base of the shower faucet. Be sure to remove any debris that had collected around the threads. It's a good idea to put down some newspaper or paper towels in the tub so that you can remove the debris instead of washing it down the drain.
Step 3: Wrap the faucet threads with thread tape. This tape comes with almost all new shower faucets and heads and provides traction for the new hardware. Place a rubber "O"-ring inside the new shower head at any place that there is a water connection. This prevents a leaky faucet and improves water pressure.
Step 4: Tighten the hardware with a wrench. Turn the wrench to the right to to tighten.
Step 5: Test the temperature controlled handheld shower Head to make sure there are no leaks and that everything is working properly. Now you have a huge improvement in your bathroom for a minimal amount of cost and effort.