Wall Mounted Pot Filler Kitchen Tap
This swinging faucet is a cold-water faucet that saves you the trouble of carrying heavy pots filled with water from the sink to your stove.
A pot filler faucet, also known as a pasta arm or kettle faucet, is a separate kitchen faucet style installed near a stovetop or range. The kettle faucet mounted over a stove swings out, extending on a long, jointed arm. The faucet can be used to fill pots with water directly over the stove. Then, the long metal neck can be tucked back out of the way when not in use.
Available Finishes: Gold, Brushed Gold, Rose Gold, Chrome, Black, Black Oil Brushed
Material: Brass
Valve: high quality ceramic valve for lifetime drip-free usage
Purchasing a Pot Filler Kitchen Tap will allow you to use your kitchen to its fullest potential and will save space.
Here are three main benefits of having a pot filler:
1. Convenience
Having a pot filler above a range or stove is incredibly convenient. With the functionality and convenience that a pasta arm adds, you may be inspired to exercise your culinary skills more often and in more creative ways!
2. Less weight to carry
Water can get heavy. According to Science Notes, a U.S. gallon of water weighs 3.78 kg and an imperial gallon weighs 4.546 kg. That weight can add up pretty quickly when you have to carry pots full of water all around the kitchen and from the sink to the stove. Some times you may be carrying as much as 30 or 40 pounds!
3. Multitask easier
Installing a pot filler is a great way to enable multitasking in the kitchen. With this faucet, you can fill pots right at the stove and free up your kitchen sink. That means no more struggling to find room in your sink while cooking a pasta dinner. This increase in your ability to multitask in the kitchen will not only save time, but also help you tackle difficult tasks for delicious dishes faster and with more ease.
Measurements: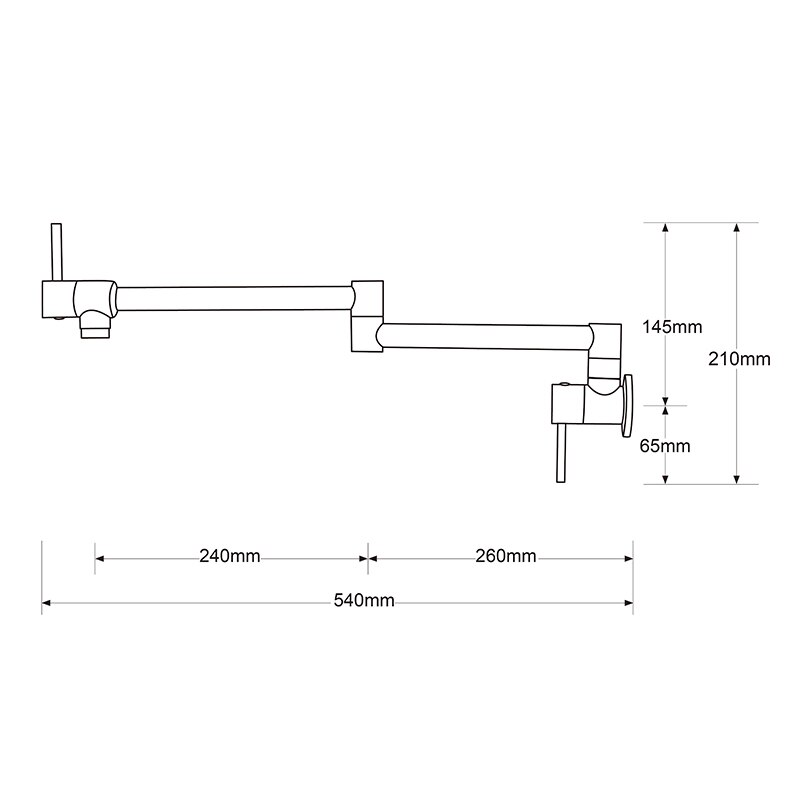 A Marvel of Kitchen Elegance
Unveil the future of kitchen efficiency with our Wall Mounted Pot Filler Kitchen Tap. This isn't just a faucet; it's a testament to innovation that promises to redefine your cooking experience. With an eloquent swing, it ensures you bid goodbye to the tedious and back-straining process of carrying heavy pots across your kitchen. In the realm of culinary arts, where every second counts, this faucet promises to be your trusted companion.
Tailored to Match Your Style
With a palette of finishes ranging from the opulent shimmer of gold to the subdued elegance of brushed oil black, our pot filler kitchen tap complements every kitchen decor. Crafted meticulously from high-quality brass, its durability matches its aesthetic appeal. The high-quality ceramic valve is engineered for a lifetime, ensuring every use is smooth and drip-free. Whether you're a lover of modern chrome or the warm tones of rose gold, we've got you covered.
Revolutionizing Kitchen Convenience
Imagine a world where your pots are filled right atop the stove, where you're not encumbered by the weight of water, and where culinary multitasking becomes a delightful norm. The benefits are clear:
Elevated Culinary Experience: Rediscover your passion for cooking. With the pot filler faucet so strategically placed, you might just find yourself exploring more recipes.
Preserve Your Energy: Say goodbye to lugging around 40-pound pots filled to the brim. Save your strength for that perfect risotto stir!
Seamless Multitasking: Enhance kitchen efficiency. Fill pots at the stove while washing veggies at the sink. Perfect for those expansive holiday feasts or a simple pasta night.
Product Highlights:
Efficient Swing Design: Direct water flow where you need it.
Diverse Finish Options: From gold to black oil brushed, there's a style for every kitchen.
High-Quality Material: Durable brass construction ensures longevity.
Ceramic Valve: Experience drip-free usage for a lifetime.
Space Saver: Streamline your kitchen space and tasks.