16 Inch Water Powered LED Light Rain Shower Head
The color of the LED lights changes according to the water temperature, so you automatically know how hot or cold your shower is and make monotonous showering more fun and romantic.
The Blue light indicates a water temperature below 30°C / 86 °F
The Purple light indicates a water temperature between 30°C / 86 °F and 40°C / 104 °F
The Red light indicates a water temperature between 40°C / 104 °F and 50°C / 122 °F
The Red light flashes to warn of water temperatures above 50°C / 122 °F
No batteries or power connection needed!
The best part: This intelligent LED shower head does not need any batteries or other power input at all because the LED lights in the shower head are powered by water flow.
How does it work? There is a hydroelectric generator inside the shower head. As soon as there is enough water flowing through it, it will generate a safe power supply for the LED lights.
Luxurious Rain Shower Experience
324 water nozzles provide an extraordinary rain shower experience! You'll feel refreshed after having a shower with a soothing waterfall coming from some many fine nozzles, giving you an awesome sense you want to enjoy as long as possible, hundreds of little drops trickling on your head as well as your entire body, soothing, relaxing, comfortable.
Other size options:
We have a wide range of other ceiling and hand Shower Heads with Color Changing LED lights available in our shop.
8 x 8 inch square ceiling LED shower head
12 x 12 inch square ceiling LED shower head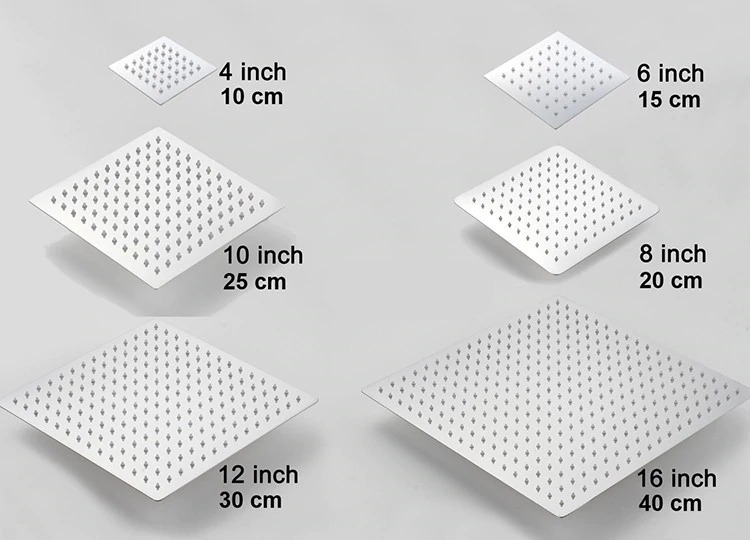 | | |
| --- | --- |
| Specifications: | |
| Shower Head Type | LED Rainfall Shower Head |
| Feature | LED, Rainfall |
| Installation Holes | One Hole |
| Finish | Chrome |
| Style | Contemporary |
| Material | Stainless Steel |
| LED Information: | |
| LED Power Source | Water Flow |
| LED Color | Blue, Purple, Red |
| LED turns Blue between | 0-30 °C ( 32-86 °F ) |
| LED turns Purple between | 30-40 °C ( 86-104 °F ) |
| LED turns Red between | 40-50 °C ( 104-122 °F ) |
| LED begins flashing between | 50-100 °C ( 122-212 °F ) |
| Accessories Information: | |
| Battery Included | Water-Powered |
| Shower Arm | Ceiling Mounted or Wall-Mounted |
| Dimensions: | |
| Length | 400 mm (16 ") |
| Width | 400 mm (16 ") |
| Numbers of LED Lights | 16 LED Lights |
| Numbers of Water Nozzles | 18 x 18=324 |
Easy to Clean – No more limescale deposits blocking your shower head!
The soft silicone shower nozzles enable you to remove mineral deposits like limescale quick and easy! Just brush over the water nozzles with your finger while the shower is running and any deposits will be flushed away with the water.

Frequently Asked Questions about the 16 Inch Water Powered LED Light Rain Shower Head
Are LED shower heads safe?
Yes, this LED shower head is absolutely safe. The integrated LED lights don't consume much energy so it doesn't generate a high voltage current and they are friendly to the environment because they are completely powered by water flow. Using them regularly doesn't implicate any health risk.
Does this LED shower head need electricity?
No, this LED shower head relies on water flow to power the LED lights. The water flow drives a turbine or generator that in turn produces electricity to supply to the LED lights on the shower head.
Do I need a plumber to install this LED shower head?
No, Replacing your shower head is fairly quick and easy. Just follow the following steps:
Step 1: Remove your existing shower head with a wrench. Set the wrench in place and turn the nut to the left to loosen it. Have a hand ready to catch the shower head when it falls so that the metal doesn't crack your shower floor.
Step 2: Clean the threads of the base of the shower faucet. Be sure to remove any debris that had collected around the threads. It's a good idea to put down some newspaper or paper towels in the tub so that you can remove the debris instead of washing it down the drain.
Step 3: Wrap the faucet threads with thread tape. This tape comes with almost all new shower faucets and heads and provides traction for the new hardware. Place a rubber "O"-ring inside the new shower head at any place that there is a water connection. This prevents a leaky faucet and improves water pressure.
Step 4: Tighten the hardware with a wrench. Turn the wrench to the right to to tighten.
Step 5: Test the temperature controlled handheld shower Head to make sure there are no leaks and that everything is working properly. Now you have a huge improvement in your bathroom for a minimal amount of cost and effort.