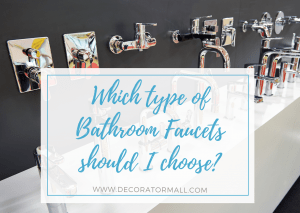 You will only realize how many types of bathroom faucets there are on the market when you decide to install one in your bathroom. Bathroom faucets are made from many different materials, there are many different brands and they even come in many different colors. In this article we will go over the most important points and features to answer the question which type of bathroom faucets you should choose to get the best bang for your buck.
For starters bathroom faucets can be categorized based on the materials they are made of. The most common materials that are used to make bathroom faucets are chrome, stainless steel, brushed nickel or brass.
It is almost impossible to know exactly which one to choose from, especially when you are new in the bathroom renovation process. Design might be another factor when selecting a type of bathroom faucet and also the color or finish.
To get a better understanding of bathroom faucets before you venture off to buy a specific type of faucet you should know exactly what kinds of faucets are available. Most bathroom faucets, like every other kind of faucet, are categorized based on the materials used to make them.
Stainless Steel
The most popular type of bathroom faucets are the ones made from stainless steel. This kind of finish is the most popular due to its durability and long lasting nature. Stainless steel faucets are usually cheaper than other kinds of faucets.
Nevertheless, the stainless steel type does not fall behind in pros. Steel is durable and therefore it does not tarnish. As a result these types of faucets can last a lifetime. These types of fixtures are also easy to install. You don't need to be a plumber to know how to do it; just follow the instructions. There are however some disadvantages as well. These are associated with the marks fingertips can easily leave on the steel. Stainless steel can accumulate hard to clean fingerprints very easy.
Chrome
One more popular type of bathroom faucets are the ones made from chrome. Chrome bathroom fixtures are fairly common in most older bathrooms. The way they are made is by using the electroplating method on brass and finishing the product with chrome.
Chrome fixtures are much shinier than stainless steel fixtures and are usually priced reasonably. The price of the faucet depends on design as well so you can find some chrome faucets in high prices. The basic and most important feature of chrome bathroom faucets is that never erode and do not get scratched easily. Although chrome bathroom faucets have many positive features, they have one downside. Water marks easily stain these faucets and after long periods of usage, and after some years, the finish might disintegrate.
Brass
Brass is one more material used to make bathroom faucets. This type of faucet is less popular than then chrome and stainless steel ones. Brass faucets are solid, made only from brass and are very durable.
Durability and style come with a price however and brass bathroom faucets usually cost more than other types. They give out a unique look to every bathroom installed in and really look stylish. The only problem that can occur with a brass faucet is rust. That's why if you install a brass faucet you should seal it right away. Scratches are another thing, that's why it will need polishing every now and then.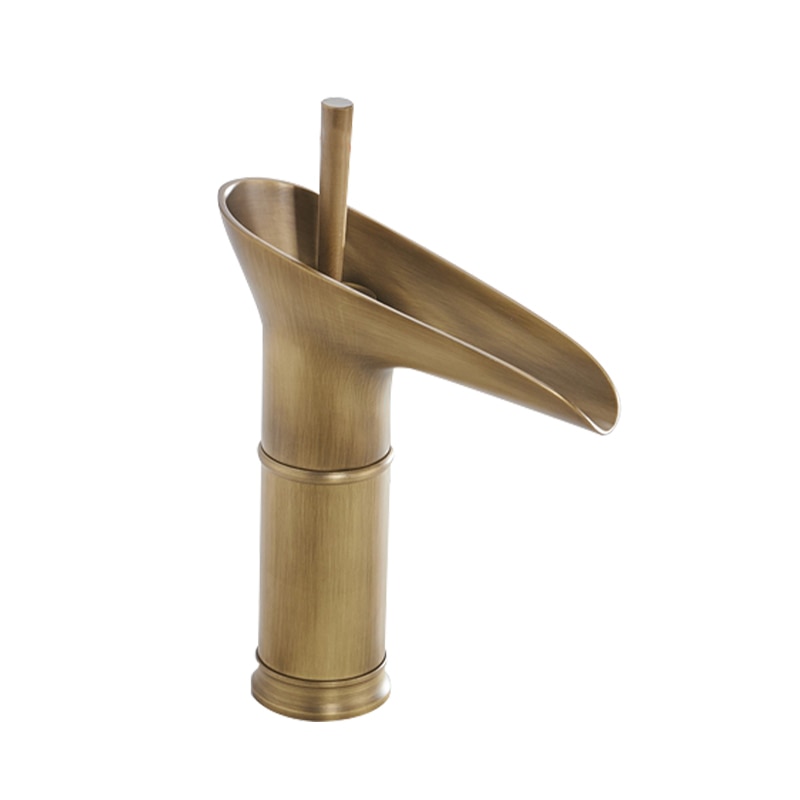 Water Saving Bathroom Faucets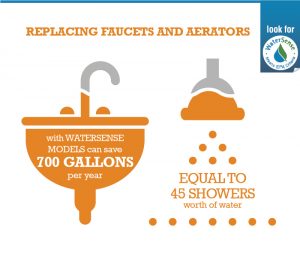 You can use up to 50% less water by changing your old bathroom faucets to a new faucet with a flow regulator. For example WaterSense labeled bathroom sink faucets and accessories that use a maximum of 1.5 gallons per minute can reduce a sink's water flow by 30 percent or more from the standard flow of 2.2 gallons per minute without sacrificing performance. (epa.gov)
Bathroom Faucets with Cold-Start Function
Have you every wondered what the Cold-Start or Cool-Start Function is? The cold-start function helps you save energy by limiting the use of hot water. Basically it is a very simple feature that means that only cold water will flow out when you set the lever of the faucet to the middle position. In standard mixers the continuous flow heaters or circulation pump start up immediately when in the middle position, which means wasted energy for heating up water, that you are not using. With Cold-Start or Cool-Start the piping system does not fill up unnecessarily with hot water.
Here is a video that explains the CoolStart technology by Hansgrohe:
As you can see there are many types of faucets out there for any prospective buyer to choose from. Deciding on a specific faucet for your bathroom should depend on what exactly you want to do with your bathroom, and how exactly you want it to look.
Click here to browse our complete collection of bathroom faucets.