Cleanliness thanks to dirt- and bacteria-resistant surfaces, touch-free operation and hygienic comfort toilets: hygiene in the bathroom is more in demand than ever. The sanitary industry offers smart solutions for private and public bathrooms.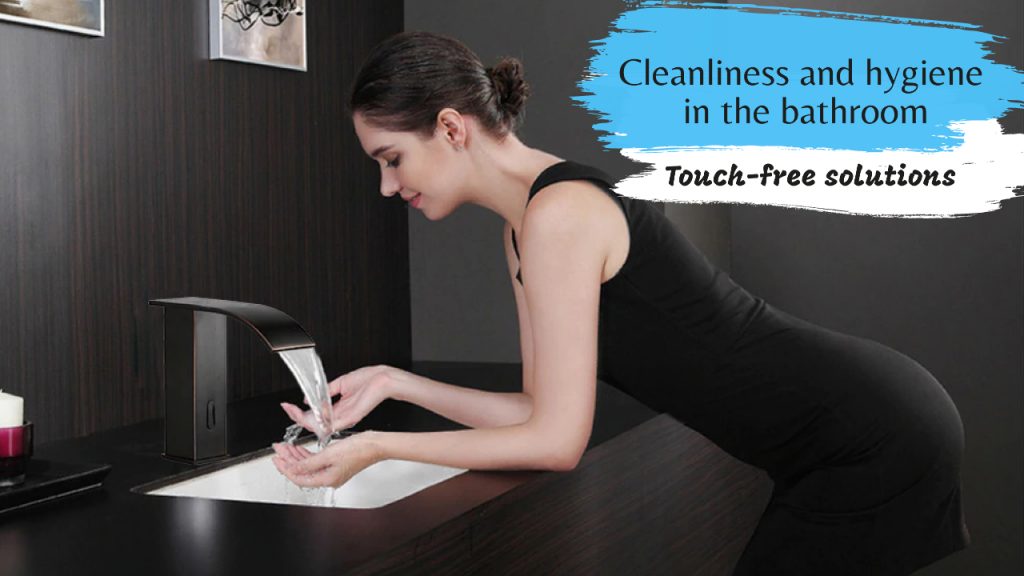 Owners do not have to search long for suitable products. Almost all manufacturers offer smart solutions for growing hygiene requirements. But no one need fear sterile design! On the contrary, many products enhance the private lifestyle bathroom.
Hygiene in the bathroom is a sensitive topic not only in times of Corona. But with the current concern for personal safety and the health of the family, with the almost reflexively practiced behavior of frequent hand washing and contact avoidance, it takes on an unexpected explosiveness. With the worldwide pandemic experience, bathroom cleanliness is once again coming into focus to such an extent that the hygienic product properties of sanitary equipment are once again becoming more important for consumers willing to renovate as well as for architects and for project planners of public facilities.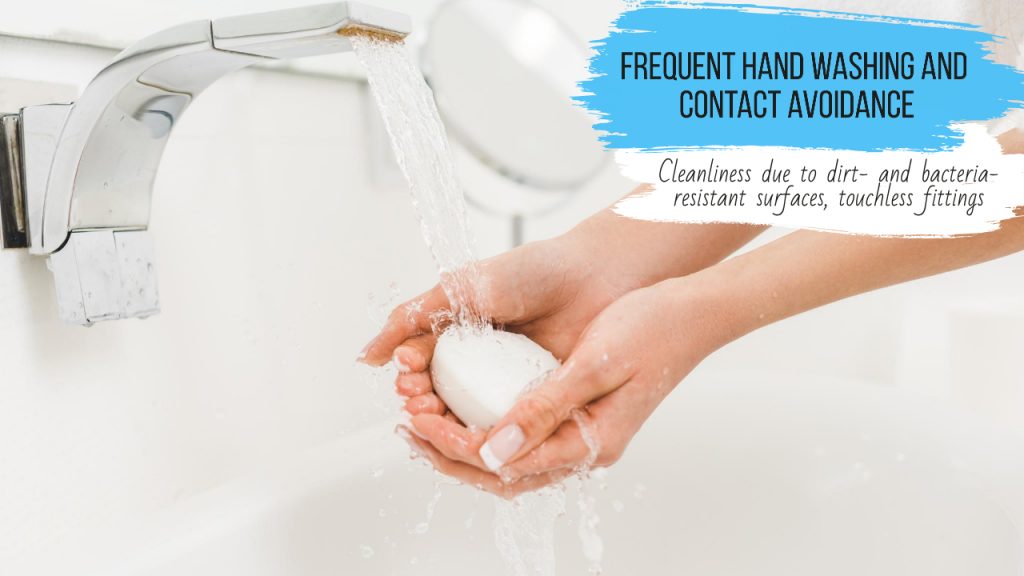 The topic is interesting from several perspectives at once: Hygiene properties of sanitary products are of interest from the point of view of preventive health care, but also because of their effect on care requirements, accessibility and, above all, on the sustainability of the bathroom. Hygiene functions often go hand in hand with the digitalization of home functions and are increasingly invisible in design. And in general: Measured against their great importance, sanitary hygiene features are conspicuously inconspicuous. That's why it's worth taking a closer look.
Focus on hygiene in private and (semi) public areas
The most obvious aspect when considering hygienic sanitary products is certainly the safety aspect – and not only for purely functional reasons, but also because the development of the bathroom into a lifestyle room increases not only the quality of the stay, but also the length of stay, and thus also the expectation of a feel-good atmosphere. After all, we seek comfort time in the bathroom and don't want to constantly worry about bacteria and viruses.
The private bathroom plays an important role in hygiene – all the more so in times when many family members use the bathroom throughout the day. To ensure that it does not become a breeding ground for unwanted germs and bacteria in the humidity and heat that always occur here, care measures and simple rules of behavior such as good ventilation play a role in addition to modern equipment.
In semi-public and public spaces, the issue of hygiene is currently even more relevant. The hospitality industry has to develop new hygiene concepts, and many sanitary facilities for offices, event locations or in public spaces have to be adapted and retrofitted to meet increased hygiene requirements. The sanitary industry offers numerous solutions for this, both for the private and the (semi-) public sector.
Product care and environmental friendliness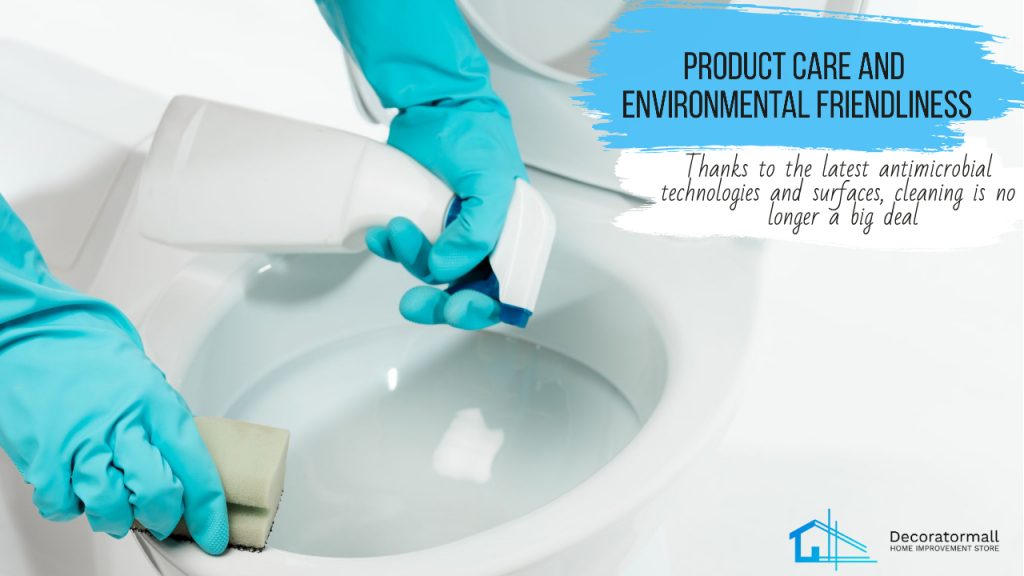 The care properties of sanitary products are often directly linked to the issue of hygiene. Thanks to the latest antimicrobial technologies and surfaces, cleaning is no longer a big deal. Special ceramic surfaces for washbasins and WCs, for example, make care significantly easier (e.g. KeraTect from Geberit or AntiBac and CeramicPlus from Villeroy & Boch). This is a coating baked into the ceramic, on which dirt and limescale do not adhere, so that residues run off more easily with the water. In addition, according to the manufacturers, bacterial growth is significantly inhibited. There are also similar solutions for vanity consoles and toilet seats that prevent microbial growth. Modern toilets also have a water flush that does not require a flushing rim and thus offers hardly any points of attack for bacteria or germs. Another advantage is the environmental friendliness during maintenance, as aggressive WC cleaners can largely be dispensed with here.
New features for the Toilet
When it comes to minimizing manual surface contacts, the digitization of toilets and fittings in particular offers major advantages. For example, some toilet actuator plates conceal sensor technology that can be used to trigger the flush completely without contact (e.g. Visign for Style 25 sensitive from Viega). This involves wiping the hand past a function field (graphically highlighted by gridded light points). Villeroy & Boch offers a toilet with a "think-along" function that flushes independently if the user forgets to do so or cannot trigger the flush themselves. This prevents the formation of germs due to stagnant water when the toilet is empty or when the user is traveling.
Modern shower toilets often offer even more functions than touchless flushing. For example, many shower toilet models no longer even require the user to touch the lid – such as the Sensia Arena model from Grohe. Sensor control allows the lid to open and close automatically when a user approaches the toilet. Some shower toilets even have a Bluetooth interface (e.g. Mera from Geberit) and can be operated using a smartphone. In addition to technological progress, the standard of cleanliness established by the increasing acceptance of shower toilets is certainly also a cultural advance. The targeted and thorough intimate hygiene with a pulsating shower jet conveys a daily feeling of freshness. Depending on the equipment, the shower toilets have an integrated self-cleaning function.
Touch-free even in the private bathroom
When it comes to caring for washbasins and faucets, another advantage of touchless models becomes clear in addition to improved hygiene: Since no operating element needs to be touched, hands generally remain under the spout while washing hands; thus, no water drips from hands onto the mixer. This results in fewer water spots and limescale residues on the surface of the mixer, and the cleaning effort remains low. With some Kludi models, it is also possible to deactivate the sensor system when the sink is being cleaned.
An almost touch-free hygiene concept can be implemented for the private bathroom. Thanks to touch-free soap dispensers such as the one from Keuco's Plan series, there is no longer any need to touch anything when lathering up. In addition to its function as a dispenser for foam soap or disinfectant foam at the washbasin, it can also be used as a hygiene foam dispenser at the WC. With a little hygiene foam, a normal toilet paper can be easily transformed into a wet wipe that can be thrown down the toilet without hesitation. This is particularly interesting for toilets in public spaces where the use of shower toilets is out of the question.
Sensor technology in public sanitary facilities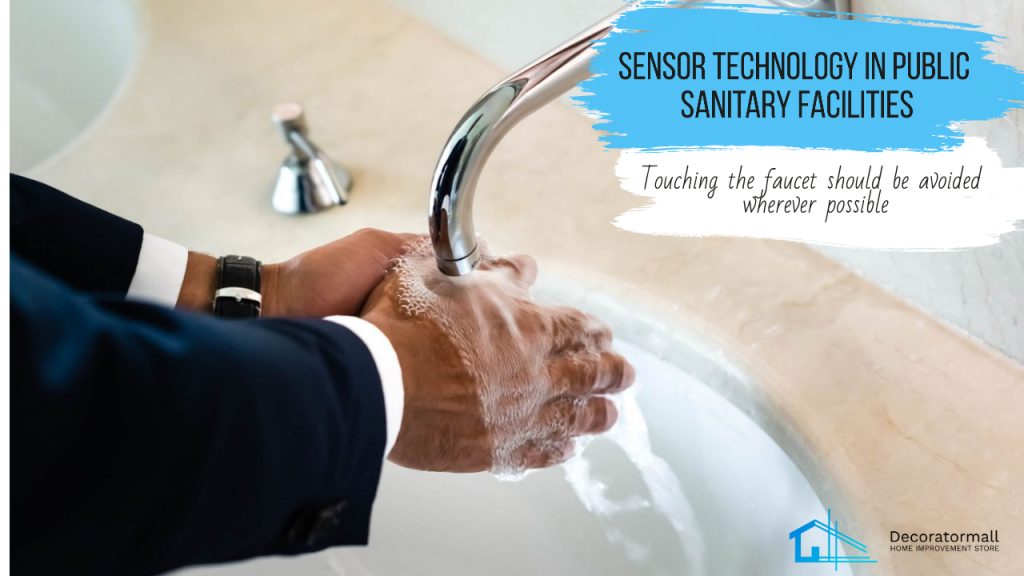 In public or semi-public facilities, hygiene has proven to be a particularly sensitive area. Washbasins and toilets in office complexes, restaurants, fitness studios, hotels, event venues, schools or universities, but especially in hospitals and nursing homes, belong on the test bench. Touchless products will play a key role in this. The technology is mature and can help to implement the hygiene requirements that have grown with the pandemic experience. After all, it is precisely touching the faucet that should be avoided wherever possible. Conventional faucets are first touched with unwashed hands, which could transfer germs and viruses to the faucet surface. At the same time, new germs and viruses could possibly be picked up through cross-contamination after washing.
Touch-free faucets are therefore a good alternative for making the so vehemently propagated hand washing more hygienic. Moreover, the faucets hardly differ in appearance from conventional models: Due to the progressive miniaturization of sensor technology, the design of the fittings can be adapted to the architectural environment.
Dornbracht goes one step further with its Touchfree variant, which is compatible with all of the manufacturer's fittings series. The system, based on high-frequency technology, detects movement even without an infra-red eye. The HF sensor is positioned below the washbasin, invisible to the user. Functions such as temperature setting, follow-up time or cleaning stop can be set via a separate, live system box. The range of the sensor can be adapted to the wishes of the operator or the conditions of the room. In addition, the automatic start-stop function can save a considerable amount of water during prolonged soaping and hand washing – a not inconsiderable energy-saving advantage, especially when hot water is used.
With modern faucets, water flow time, sensor sensitivity or automatic hygiene rinsing can be set via app using a smartphone or tablet. Cleaning times, rinsing intervals and rinsing duration are individually adjusted. Faucets are available both mains- and battery-powered, with low-energy electronics ensuring a long service life without battery replacement. When retrofitting with a sensor mixer, the battery variant is recommended in many cases, as there is no need to pry open tiles to lay cables.
Hygiene measures in the bathroom often also sustainable
Hygiene in bathrooms and public sanitary facilities has been a trendy topic not only since the Corona crisis. The sanitary industry is therefore already in a position to respond to the current increased demand for particularly hygienic product concepts with a whole range of innovative products for washbasins and toilets.
Hygiene products in the bathroom undoubtedly represent a growth market. And with many of the hygienic sanitary products, the aspect of sustainability is already included. Less water used for toilets and hand washing, energy savings through on-demand flow of hot water, reduction of cleaning agents, touch-free comfort functions in private bathrooms and hotel bathrooms, long periods of use thanks to durable design and high quality standards: the hygiene ideas of the sanitary industry are not only effective and increase comfort, they are also sustainable.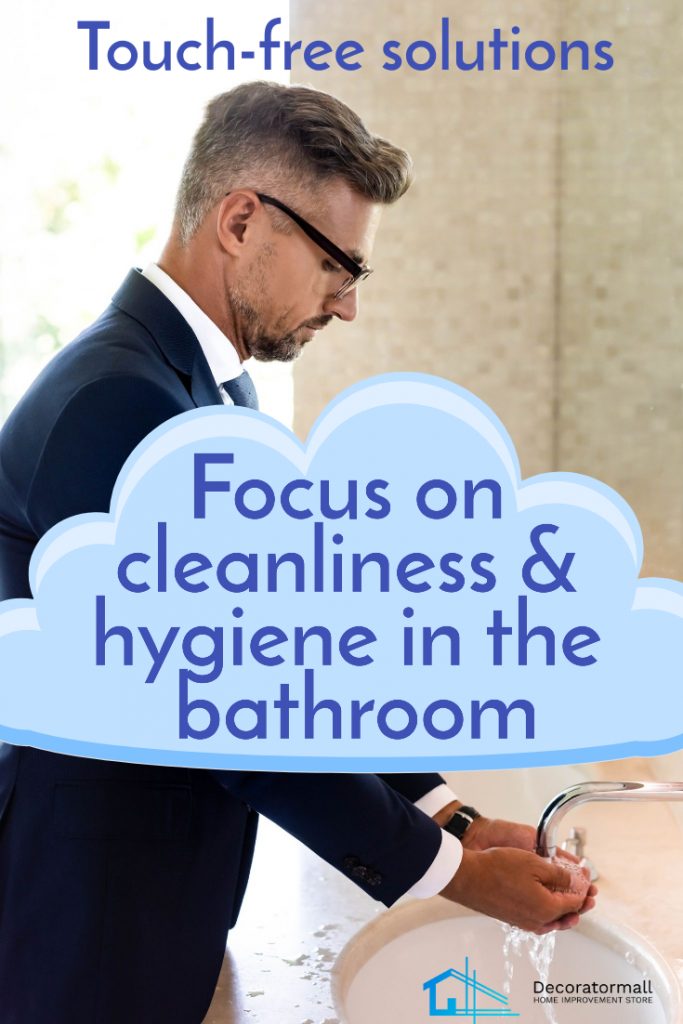 Don't compromise on cleanliness and hygiene in your bathroom! Upgrade your faucets to touch-free solutions for a safer and healthier experience. Browse through our online shop's bathroom faucet section to find a wide range of modern options that allow you to set water flow time, sensor sensitivity, and automatic hygiene rinsing via an app on your smartphone or tablet.
With individually adjusted cleaning times, rinsing intervals, and duration, our touch-free faucets are available in both mains- and battery-powered options. Plus, low-energy electronics ensure a long service life without battery replacement. If you're retrofitting with a sensor mixer, we recommend the battery variant, as there's no need to pry open tiles to lay cables.
So, what are you waiting for? Check out our online shop now and make your bathroom a safer and more hygienic space!